How we got involved in the latest Rocky film CREED
It was around December 2014 when we first heard about the production of Creed, the next instalment from the Rocky movies. Directed by Ryan Coogler and staring Michael B Jordan, Sylvester Stallone, our very own Tony Bomber Bellew and Andre Ward, this hollywood film was always going to be a hit.
We keep in good contact with Tony after making all of his fighting attire since he had his first amateur fight. It's always been a great relationship and we were overwhelmed when he insisted on wearing only Suzi Wong ring-wear in the Hollywood movie. I mean how cool is that!?
We had a few whatsapp chats with Tony and he asked; 'would we mind the costume department making contact with us about their ideas on the ring-wear'. Of course there was no problem at all.
Working with a Hollywood costume department
We made contact a few days later with the head of the costume department and set about producing some samples from the images they sent over. They originally wanted to keep the blue theme we are all so used to seeing Tony in with his relationship with Everton. They wanted a slight twist though, a gladiator style skirt, which was kind of funky and Tony liked the idea as well. We went ahead and make some samples for Tony to take back to USA after he'd spent Christmas with his family in Liverpool. Here you can see the first initial concepts in the images below provided by Warner Brother Costume Department.
Tony went back to US after New Year and began filming. The costume department where very pleased with the samples we produced but after some test shots Ryan Coogler, the film's producer, felt that a black theme would be better for the camera and look of Tony in the film (aka Pretty Ricky Conlan). We initially made some shorts and then went back to the gladiator skirt but with massive Everton badges and a star on there, along with sponsors, a Union Jack and the Suzi Wong logo. Here you can see the samples modelled on Tony. These are first samples, and you can see here the original blue and a sparkle Union Jack and also a satin Union Jack. Tony's original name in the film was going to be Pretty Boy Porter, as you can see from these images here. This was later changed to Pretty Ricky Conlan.
Ryan was really conscious of giving the film that real fight feel, so a realistic boxing kit and modern style was really important compared to what we saw in the original Rocky movies.
We sent numerous samples back and forth from the states, with late night emails and conversations going on for months until we go to the final fight night kits perfect.
Producing boxing kits for the stars
We ended up producing 8 ring jackets, 8 pairs of shorts, and over 15 corner jackets for the fight scenes that involved Tony's character, 'Pretty Ricky Conlan', in the movie. This is because the filming is not always done in the true order, so the final scene may have been shot before the first scene, therefore the blood that was on the shorts final scene would not be present on the shorts in the first scene. This was obviously something new to the Suzi Wong team and we really went on a learning curve whilst dealing with our new Hollywood client. Here you can see some of the final kits images we sent out.
It was fantastic to be getting such incredible feedback from Hollywood producers, having to sign documents that allowed our brand to be used in the movie from Warner Brothers, it was all new, but an amazing experience, that got even better.
Michael B Jordan & Sylvester Stallone wearing Suzi Wong
Originally we had been tasked to make only the fight wear for Tony Bellew's character 'Pretty Ricky Conlan', but then we took a late night phone call saying the short maker who had produced the shorts for Creed was not up to scratch compared to what we had produced for Pretty Ricky. Therefore they had to release this supplier and asked us if we could make the famous stars and stripes kit, along with the ring jackets and corner jackets for Apollo Creed's son (Michael B Jordan), who is trained by Rocky (Sylvester Stallone) in the movie. The inital concept for the Creed shorts provided by Planet Hollywood.
This was a massive compliment. We have been working in the boxing industry for over 15 years, and to be recognised in a Hollywood movie with every kid's biggest boxing idol was a dream come true. Stallone would be wearing Suzi Wong, along with Michael B Jordan and his corner team.
Boxing kits to deadlines is what we do
With the extra work and a very tight deadline until the final scenes where shot, it required a few late nights at work for all the team, but it was well worth it in the end. We went back and forth with the costume department and Ryan Coogler about the look and feel for Creed. This was a sticking point on some occasions as it was felt that Adonis Creed should be kept traditional with the stars and stripes his father wore, but with a more modern twist.
We made 3 different samples and sent them over in the stars and stripes as you can see from the pictures, all have slight variations on the fabrics, and it was eventually decided that Michael B Jordan would have a basketball style, so bigger and longer using wet-look blue fabric, with embroidered stars and names, with traditional red and white stripes. That was the shorts down, now to sort out the ring jacket and corner men.
Here you can see us making the final set that were chosen:
Ring jackets for Rocky Balboa's team
For the ring jacket we produced some drawings of what we felt might work for the character in the modern, USA theme. These where taken on board and we settled for a sleeveless white ring jacket, trimmed in red and blue with embroidered white stars inside the hood, with CREED on the back and the Front Street gym logo embroidered on the front. The overall look was really classy and less complicated than the shorts, but a modern and classic theme.
We then went onto the corner jackets, Stallone and Ryan felt they wanted a traditional bowling style jacket with pockets and a collar on. This was something new for us, but no problem, we produced new patterns, sent some images over. The Suzi Wong team made a few different samples to make sure the collar fitted nicely and we got a lovely fitting jacket. We embroidered the Front Street gym logo on the front of these and also had TEAM CREED on the back. This made the overall look of the team look great and really in unison with each other.
A new experience
The overall experience of working with a costume department on something that was new, having snippets of the script sent over, pictures of the fighters in the kit, made us all really excited to see the film. We can't wait for the release on Friday. It's every designer and manufacturers dream to see their products on the big screen. We are thankful for all the weekends we get to enjoy our creations on numerous channels across the country and world when fighters we work with have massive fights on pay per view, Box Office, HBO, Channel 5, Box Nation, images from amateur fighters to pros shown on the internet, Twitter, Instagram, Facebook and then in publication such as The Ring Magazine, Boxing News and Boxing Monthly. This is something we appreciate every week, the film was something different and we are still overwhelmed by the massive response and comments we have had from all over the world.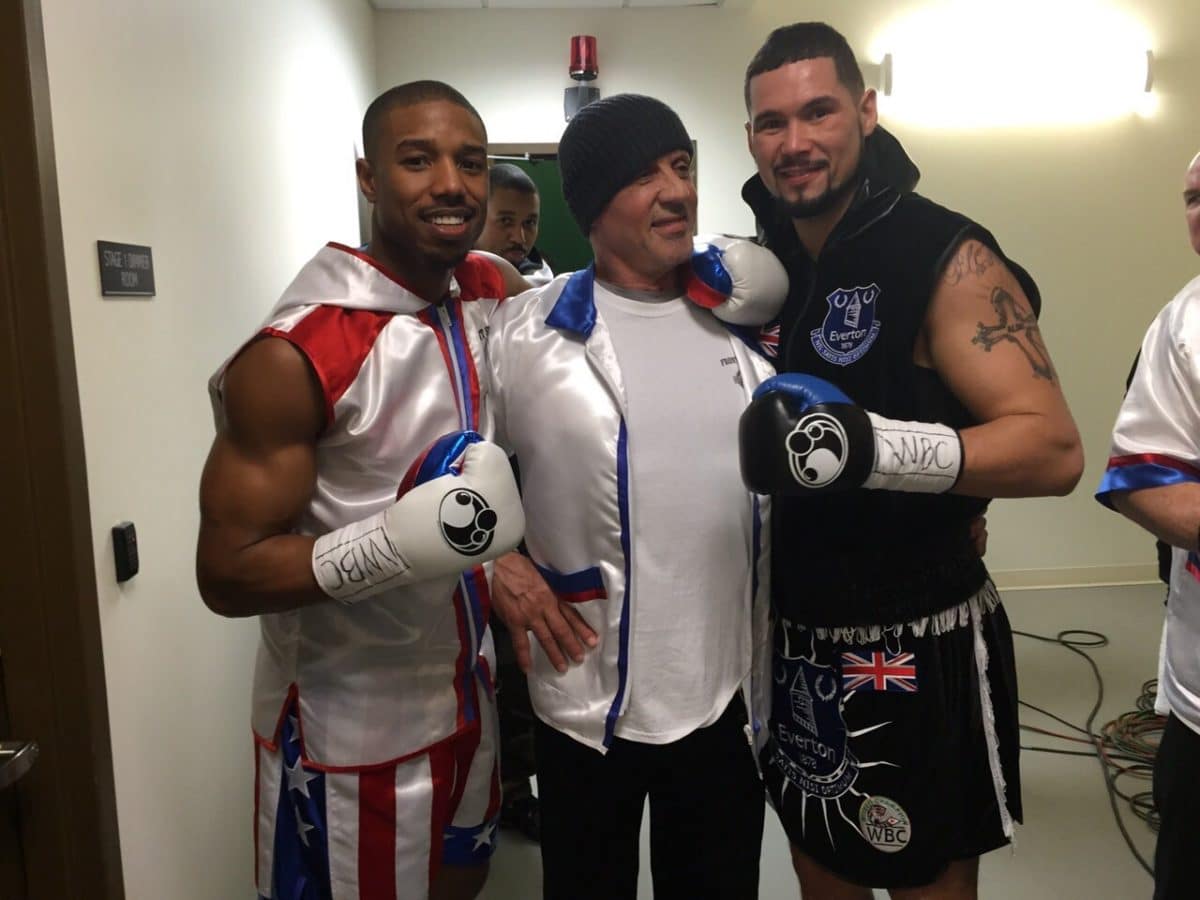 Thank you Tony Bellew!
As a special tribute to this amazing work we did, we would like to personally thank Tony Bellew for the amazing words he said about us to the producers and costume department. We are forever grateful for the experience, thank you. A special thank you to all the costume department, Antoinette and Rita, it was a pleasure. The late night/early morning coffees chatting away to you, whilst trying to get designs finalised were a pleasure. We got there in the end and what was produced was amazing, thank you for the opportunity, special thanks to Antoinette, now a lifetime friend, for believing in what we do and appreciating the craft of our manufacturing.
We hope everyone enjoys the movie, and who knows maybe there will be a CREED 2, make sure you look our for the Suzi Wong attire worn by all the stars in the movie.
Visit the official Creed website to find out more about the film.
As a special memento for the film, we are also producing a special CREED inspired stars and stripe short, you can purchase with your own names on, from our online shop make sure you check it out.